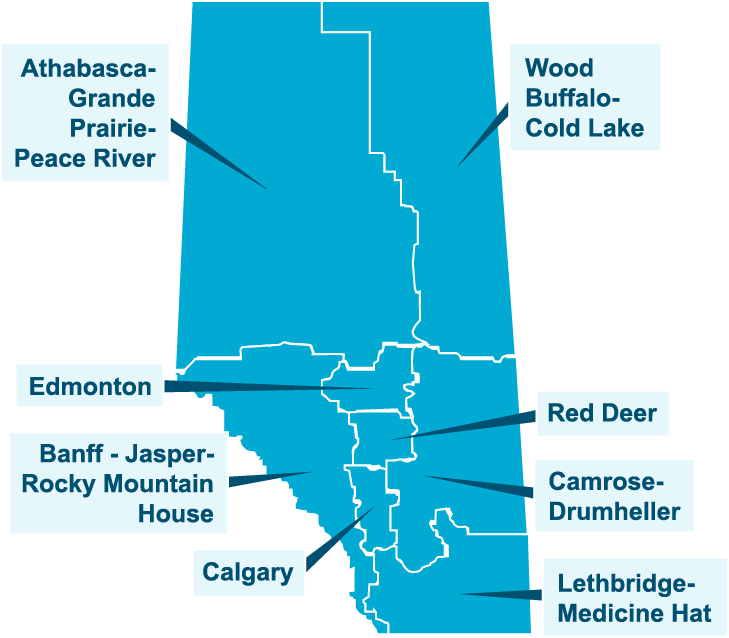 An economic region is a grouping of census divisions as defined by Statistics Canada in their Standard Geographical Classification. Each province is divided into several economic regions and each economic region is further subdivided into census divisions, which are themselves divided into census subdivisions (i.e., municipalities). 
There are eight economic regions in Alberta:
Lethbridge--Medicine Hat
Camrose--Drumheller
Calgary
Banff--Jasper--Rocky Mountain House
Red Deer
Edmonton
Athabasca--Grande Prairie--Peace River
Wood Buffalo--Cold Lake
Some economic regions are grouped together for certain indicators due to their lower populations.


Insights
Calgary and Edmonton are the most populated economic regions in Alberta
Most migrants to Alberta settled in either the Calgary or Edmonton economic regions. As a result, these regions account for a major proportion of the province's population. The remaining six economic regions each accounted for less than 10% of the population.
2022
Share of businesses by industry for economic regions
Economic regions have different concentrations of industries for a variety of reasons. Industries in the goods producing sector operate mostly in areas with a higher concentration of natural resources, whereas service producing sectors are located in regions with higher populations. A large portion of service-based sectors have their businesses located in the Edmonton and Calgary regions.
2022
Industry values expressed as the percent share of total businesses in that economic region.
Change in employment by region
All economic regions have seen positive employment growth over the past year. The Calgary economic region led the province with 7.3% growth, followed by the Camrose-Drumheller (7.0%) and the Lethbridge-Medicine Hat (6.3%) economic regions.
2022